23 APRIL 2020 - FRANS LABUSCHAGNE
At a time where we are arguably relying more on digital interactions than ever before, many people face a dilemma when it comes to their finances. On the one hand, they need digital channels to manage their accounts and conduct transactional activities to a greater extent than before. On the other, significant numbers fear that digital communications expose them to greater risk.
The paperless banking revolution
Even before countries started imposing lockdowns to restrict the spread of the COVID-19 virus, organizations around the world have been moving more customer interactions to digital channels. Feeling the pressure to minimize waste as much as possible, financial institutions have largely led the way in this area by substituting paper-based communications for digital channels, and urging their customers to cooperate in this transition.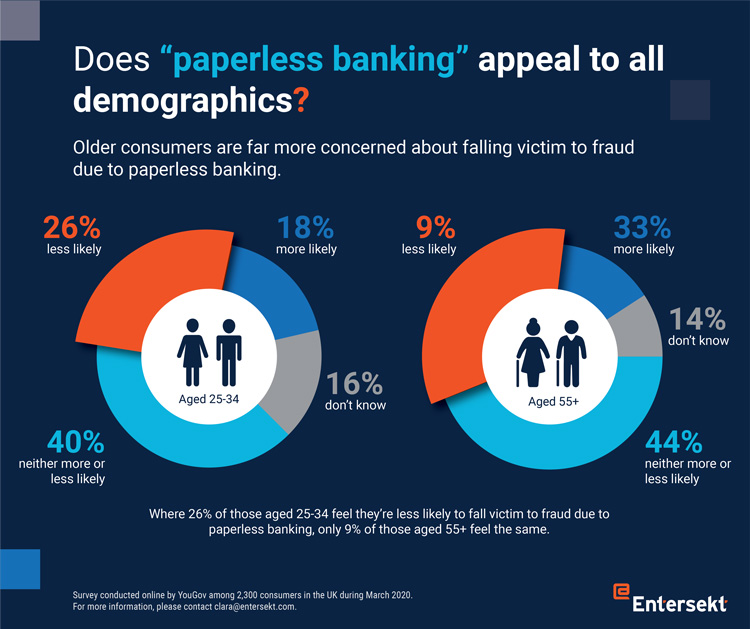 However, it's been estimated that in 2019, approximately 55% of global
emails were spam
. With the average person receiving
121 emails per day
, it becomes easy to see why some of these communications fall on deaf ears as users attempt to block out the noise of everyday information overload. Just think of your own email filtering process. What you open mostly boils down to the following question: "Do I trust this email enough to open it?".
Mistrust means ignore
With interactions between customers and their banks becoming more digital, we wanted to see how much customers in the UK actually trust digital communications from their bank. We took a look at just how trusting UK customers are of communications such as emails, text messages, and banking portal notifications. Conducted online by YouGov in March 2020, almost 2,300 consumers were polled on their experiences of these banking-related digital communications.
Our survey found that more than one-third (34%) of British consumers distrust digital communications from banks to the extent that they ignore actions the messages suggest they take. Let that sink in. Thirty-four out of one hundred people will ignore digital communications from their bank due to a lack of trust on the part of the customer. This number grows in the older age bracket (55+), where they are twice as likely as 18–24-year olds to ignore messages (43% vs 20%).
The survey also found that one-third of those over 55 (33%) think they are "more likely" to fall victim to fraud by going paperless with their bank, whereas only one-fifth of 18–24-year-olds (20%) think the same way.
With bank branches having to limit operations due to the nationwide lockdown, putting call centers under immense strain, many people have to navigate a situation where they must rely on digital channels to manage their financial activities to a greater extent than before. At the same time – as our survey demonstrates – many people fear that digital communications expose them to greater risk. The instinct of many, therefore, is to ignore suggestions or instructions delivered in this way.
A communication strategy that cuts through the digital noise
It may be time for banks to rethink their digital communications strategy. Here are a few guidelines for creating a more trusted approach to digital communications.
1. Open a trusted line of communication
Email and text communications have been making headlines due to increases in SIM-swap fraud and phishing attacks. Apart from resulting in greater awareness of cybersecurity, these kinds of attacks also cause suspicion of these communication channels. Banks can decrease the likelihood of being ignored by offering customers a secure platform, such as a banking app, that can keep customers informed and their data safe.
2. Be there at the right time and in the right place

Banks can deliver smarter communications by using the banking app to provide

timely communications

that support customers at every stage of their banking journey. Yes, a banking app is another channel for customers to interact with, but once they are there, they are engaged. Providing customers with more than the mere basics (such as account or transaction info and customer services), and offering relevant products and innovative capabilities, will ensure that customers view the banking app as an essential tool in managing their financial lives.




3. Let the customer choose how they want to be contacted
Even if a dedicated app isn't part of your current strategy, let customers choose how you contact them and through which channel. Lloyds Bank, for example, has a radio ad that states it would never call customers to ask them to move money or offer a refund. Be clear with customers how you will contact them and for what – and if you can, offer them a choice.
It is clear that after this crisis has passed, financial institutions will need to revisit how they contact their customers with important information and calls to action. The secure banking app could be the most conducive alternative means of engaging customers.
A survey conducted online by YouGov among 2,300 consumers in the UK during March 2020.