If Google's search trends are anything to go by, Black Friday and Cyber Monday (BFCM) continue to be massively popular retail phenomena. Searches containing 'deals'
increased by over 2,300%
during last year's BFCM period, and
spend reached over $9 billion
for Black Friday alone in 2022.
But, as the epic hunt for holiday bargains continues to build up steam, cybercriminals are also powering up their fraud game, giving legs to initiatives like
International Fraud Awareness Week
(12 – 18 November), a global effort to promote anti-fraud awareness and education.
With this in mind, our message to financial institutions is to prioritize modern
payment authentication solutions
that keep e-commerce payments secure, prevent false declines, and reduce friction at checkout – a key contributor to transaction abandonment.
How to combat online payment fraud
Fraudsters are good at catching out banking customers on a normal day. But on Black Friday and Cyber Monday, their victims are ripe for the picking. Unfortunately, consumers are so fixated on getting the best deals or discounts, they are more prone to lapses in judgment and mistakes – often costly ones.
In fact, digital fraud attempts were estimated to be
82% higher
over the Thanksgiving period in 2022 compared to the rest of the year!
As the holiday period approaches, FIs need to remind their customers about the dangers of common
social engineering attacks
– especially baiting, phishing, and pharming schemes – as well as the red flags to look out for to prevent them from falling victim.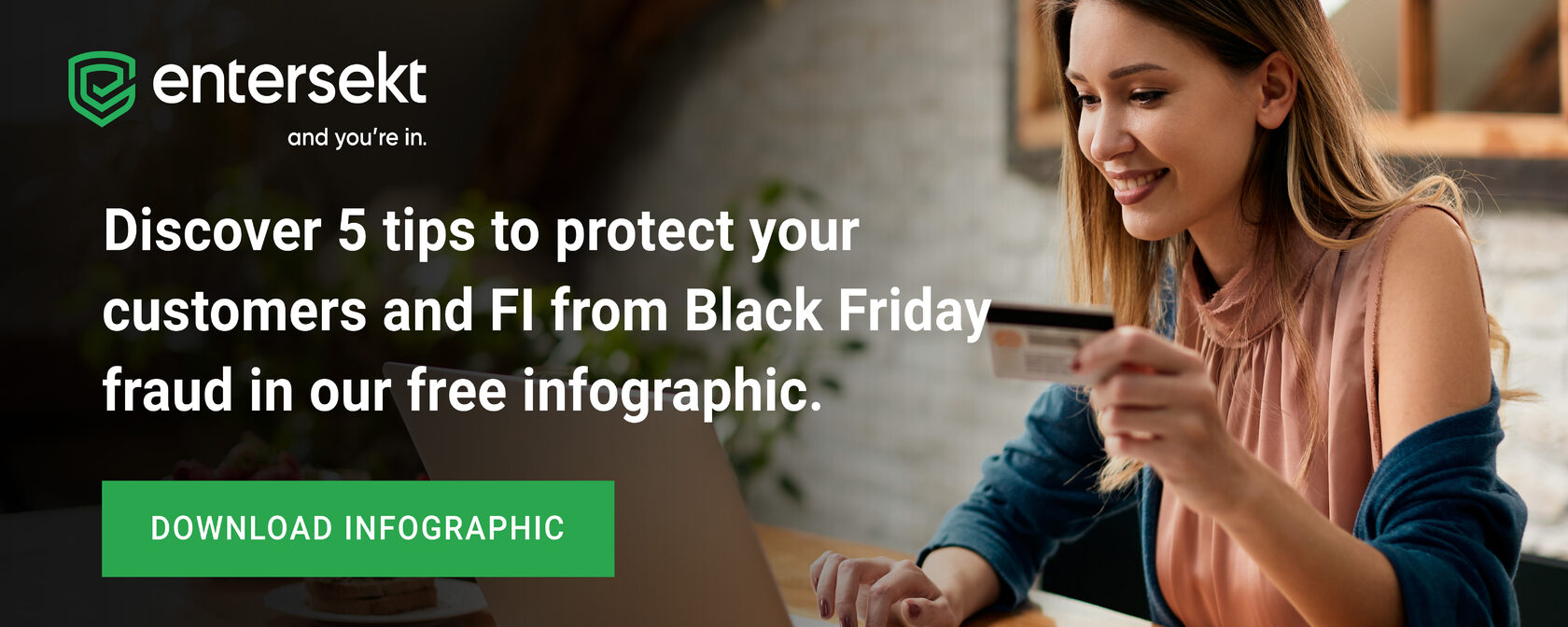 Balancing online shopping security and UX to reduce false declines
Bad checkout experiences carry a high cost for banks and their customers. Neither want disrupted payment experiences and the resultant cart abandonment, or revenue loss. This is even more pertinent over the Thanksgiving e-commerce peak, as shoppers can lose out on time-sensitive deals, causing major frustration.
Considering that
73% of US consumers
blame their bank when their card is declined, and 34% will consider leaving their banks if false declines happen on their credit card, FIs need to prioritize efforts to balance security and the user experience when verifying their customer's identity.
Discover how to boost customer loyalty! Watch the video: The true cost of fraud and false declines.
Poorly implemented or rigid fraud prevention solutions do not share the necessary data about the customer to quickly, and easily, distinguish them from an actual fraudster. In essence, this setup treats everyone the same, customers and fraudsters, potentially even blocking transactions that are low risk, and actioned by the customer (or soon-to-be ex-customer).
Enhanced payment authentication and fraud prevention with 3DS
The industry's payment security protocol, 3-D Secure, was introduced to beef up the security of digital payments. While the original 3DS 1.0 did achieve its goals, to some degree, regarding more security for high-risk transactions, it also added extra friction to the customer experience. As a result, it led to high cart abandonment rates, which made FIs and merchants understandably less enthusiastic about adopting the technology.
However, subsequent 3DS versions developed by EMVCo are a better match for today's digital-savvy consumers. Not only do these 3-D Secure 2 (3DS 2) standards create a more user-friendly experience for shoppers, but they also add better security by stepping up authentication for higher-risk transactions — without interrupting the payment flow. In the US, for instance, the 3DS authentication market has grown
by over 80%
from 2021 to 2022.
But the game-changer with 3DS 2 is that it uses the power of data to quickly distinguish customers from fraudsters. And the speed of verification is only one of the advantages.
The benefits for FIs and merchants that implement 3-D Secure 2 include:
Better protection against e-commerce fraud
Increased transaction approval rates
More customer authentication choice and personalization
Great customer confidence that their card won't be falsely declined
Lower cart abandonment rates
Unlocking Black Friday payment agility with Entersekt's 3-D Secure ACS
Entersekt's EMV-certified
3-D Secure Access Control Server
(ACS) supports e-commerce experiences that are secure and seamless by analyzing risk data in real-time. Over the Thanksgiving holiday season, your customers can rest assured that their transactions are protected.
What's more, our ACS is fully customizable, enabling full control of the user journey down to individual card level, driving higher conversions. That way your customers won't miss out on the hot holiday deals they've had their eyes on for weeks because of unnecessary friction.